Design & Experience Director. Strategy. Vision.
Ancestry DNA Story
Where does your DNA come from around the world?
---
Date:
2016-2020
Platform:
Web, iOS, Android
Where did you come from? How did your DNA move around the world?
Ancestry DNA Story helped customers answer an age-old question, "where am I from"? Through the science of DNA, we could help uncover mysteries and confirm stories told throughout a family's history.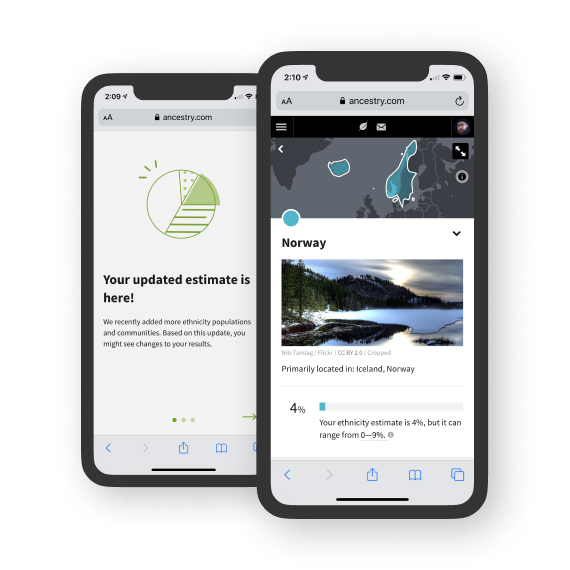 Getting There
When I came onboard to Ancestry the DNA Story product, then called Origins, was a basic pie-chart and map, serving around 1.5M customers. Over the course of 3.5 years, I led the overall design and vision for the product as we grew to over 15M customers. I led the team in launching the first major update to the product, which included new scientific understanding, and changed results for customers. Through designed experiences, we slowly changed the mental model of customers helping with customer adoption and enthusiasm for new result updates, at a yearly pace.
Highlights
Grew customer base from to over 15M customers over 3 years; partnering with the marketing team to deliver a best-in-class product that matched closely to commercials and advertising
Lead design across multiple platforms, growing from a desktop-focused experience to a mobile web and native app experience
Collaborated with DNA science team to deliver experiences based on pioneering scientific breakthroughs to showcase the movement of people and shared DNA across the world
Lead multiple, iterative product vision sessions as the product and market grew and shifted
Completed redesigned experience for better story-telling, usability, and a more engaging emotional experience
Lead the market in helping to shift customers mental model of DNA from a set science to an evolving science
Created first personalized introduction into the product, and subsequent result updates; pattern then became reused through Ancestry