A cohesive, easy to use flight & camera system
Taking Flight
Working with a client from early concepts through final production and delivery of a new, super easy-to-use, best-in-class drone experience. Over one and a half years we collaboratively worked to bring a brand new experience to life, taking aerial photography and videography to new heights.
Throughout this project I was the design lead, closely collaborating with our clients, as well as individually designing wireframes, flows, information architecture, presentations, and screens.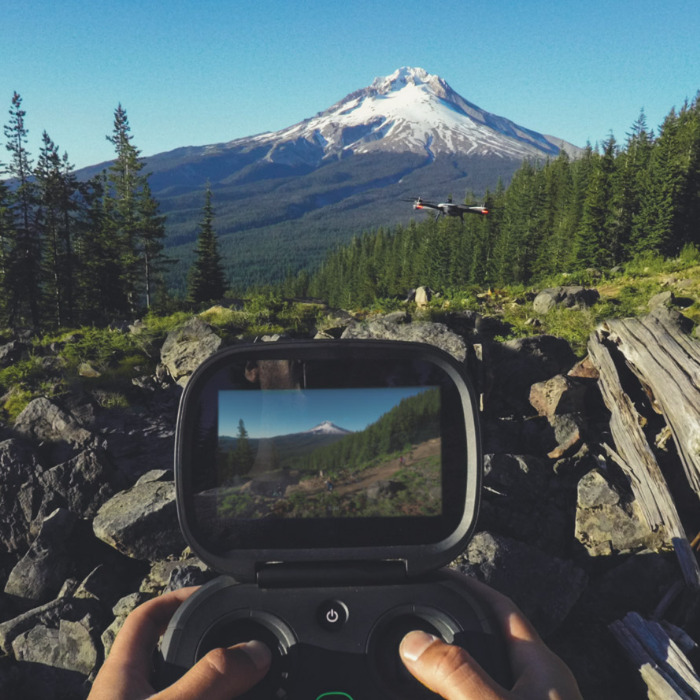 Getting There
Our project started as a three month concepting engagement with a large, new client. As the design lead, I worked with my team setting up discovery workshops and user research to better understand the problem space and the client's needs. We collaborated closely to work towards multiple solutions and ideas and simultaneously crafted user research to help us figure out the best solution.
To better understand users, we would take novice participants out flying with a drone. We also immersed ourselves in drone flying outside of the office and on weekends. Together with our client's knowledge, this helped us to understand a need to break away from the complicated experience and interfaces of other drones and controllers and create something super simple, easy to understand, and easy to operate.
Confidential
Speak Friend and Enter
Highlights
As Design Lead for the Drone Controller
Red Dot Award | 2017 for Best of the Best in Product Design
Lead large team, collaborative sketching sessions
Designed and lead user research initiatives
Immersed team and myself in product space through flying
Designed interactions to be within thumbs reach from controller
Focused on making flying simple and fun
Took three month contract to extended 1.5 years of collaboration
Designed a flying experience that anyone could pick up and use
Design Details
Showcasing various aspects of the drone controller both on device and as stand-alone screens. Following is only a subset of the total screens created in tight collaboration.